Westbrook Lane PTA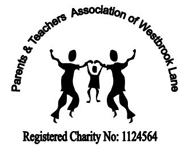 The Westbrook lane PTA exists to arrange and promote social and fundraising events to provide equipment and experiences to enhance our children's school life.
The PTA warmly welcomes parents who would like to be involved in the social aspect of school life, whether it is to bring ideas and co-ordination or a helping hand for events.
Longstanding and successful events include:
Family Disco, Christmas Fair, Summer Fair and the "Sausage Sizzle" (a September barbecue and treasure hunt to welcome new parents and children)
The PTA meets every term with teaching staff to discuss fundraising ideas and community events. New faces are always welcome.
Westbrook children and staff benefit from the money raised by providing a wish list to the PTA of the things they would like.
Some of the things the PTA have provided are:
Curriculum enhancements - special workshop day
Contributions towards school trips
Resources for health week
Facebook link: http://www.facebook.com/pages/Horsforth-United-Kingdom/Westbrook-Lane-Primary-PTA/297627364612
Email address: westbrookpta@hotmail.co.uk